The Pioneer Cabin at Conrad Park
A Brief History of the Momence Pioneer Cabin
by Betty Gilbert Dionne
The Pioneer Log Cabin, which was to resemble as near as possible the original cabins built by the men and women who settled this area, was the vision of local teacher and historian, Kay Hess. She and a group of volunteers worked together to build a replica of a log cabin as a memorial to those early settlers. The cabin was built the year of the city's sesquicentennial in 1984 and is located on the area now known as Conrad Park. Merlin and Donna Karlock donated this beautiful property to the city and citizens of Momence in 1980.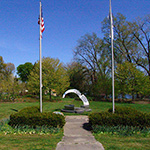 At one time Conrad's Bakery stood there, and employed many local people. The name Conrad Park was chosen for that area to remember not only the people who built the bakery but for the many local citizens who worked there.
The original group of volunteers looked after the cabin until the year 2000, when a second group took on the task. This group decided that the area around the cabin needed a more attractive setting and they went about developing the entire area into a beautiful park. They meet every Thursday evening during good weather to weed, plant and mulch - new volunteers are always welcome to join the group.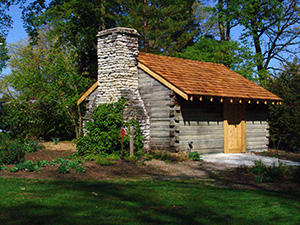 A fire nearly destroyed the cabin in 2010. The walls remained and were able to be restored and the entire building was rebuilt under the direction of Mayor Mick Porter the following year. The reason for the fire was never determined.
The cabin is open to the public during those hours when the volunteers are there. It is also open during the Christmas holiday when Santa stops by to visit with the children of the community.
City Government

City Services