Water and Sewer Department
Superintendant Mark Nelson
Phone: 815.472.2430
Emergency/After hours number: 815.351.1919
Email
The Water and Sewer Department is owned and operated by the City of Momence. Mark Nelson has been the Superintendant since 2008. Matt Reichers, Asst. to Water & Sewer Superintendant was hired in 2016. The department consists of 1 part-time and 4 full-time employees, including a lab technician.
Each year, the Illinois EPA issues a Water Quality Report for each municipality, which must be published and available to the public. Read the 2015 Water Quality Report here.
The City of Momence is currently making improvements to its water distribution system. Improvements include the installation of 1,900 feet of 12-inch water main installed beneath the Kankakee River. These improvements will improve water quality by increasing capacity, pressure, and fire protection to the south side of the city. Funding for this project was provided by a low interest loan from the Illinois Environmental Protection Agency's Public Water Supply Loan Program (PWSLP). The PWSLP is funded by both state and federal sources. The $1,681,030 loan has an interest rate of 1.86% and will be repaid over 20 years. For more information about the Kankakee River Water Main Crossing project, contact the Momence Water & Sewer Department.
Water Rates (effective January, 2017)
Base rate (First 4000 gallons):$11.70
Each additional 1000 gallons: $1.29

Sewer Rates
Base rate: $10.76
Each additional 1000 gallons: $2.12
Southside Water Line Charge
$7.00
Payments may be made by mail to:
Momence Water & Sewer
29 N. Dixie Highway
Momence, IL 60954
or in person at City Hall with cash, check, or Visa, MasterCard, or Discover debit/credit cards.
By ordinance passed in 2006, a cost of living increase is imposed on the water and sewer rates, in an amount equivalent to, but not less than, any increase in the Consumer Price Index established by the US Department of Labor for the City of Chicago, Illinois.  According to the price index, the 2017 increase for utilities is 1.9%
Attention Landlords: A new form regarding water/sewer payments must be filled out and signed for each rental property, then returned to City Hall.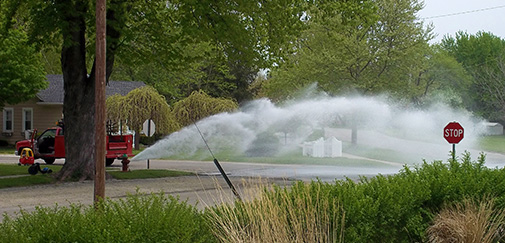 Water/Sewer Department Employees
Mark
Superintendant
21 years of experience
Class A Water Certification
Class 1 and K Wastewater Certifications
Bob
32 years of experience (currently part-time)
Class C Water Certification
Class 3 Wastewater Certification
Brenda
11 years of experience
Class A and D Water Certifications
Class 4 Wastewater Certification
Elliott
3 years of experience
Class 4 Wastewater Certification
Tim
Water Equipment/Capacities/Volume
106,850 feet of water pipes throughout the city


Plastic
Ductile

12" 1,350 ft
10" 4,000 ft
8" 17,000 ft
6" 11,000 ft

Cast Iron

8" 11,000 ft
6" 15,000 ft
4" 39,000 ft
3 Pumps - 645-1000 gallons per minute
3 Water Towers - 600,000 gallons combined
Over 250 Fire Hydrants
An average of 23 million gallons pumped per month
$35,000 per year spent on electricity to run the water plant
Sewage Treatment Equipment/Capacities/Volume
87,000 feet of sewer pipes throughout the city


Sewer line

6"  2,700 ft
8"  41,650 ft
10" 12,200 ft
12" 10,500 ft
15" 12,100 ft
18"  750 ft
24" 900 ft
30" 800 ft
36" 1,750 ft

Cast Iron Sewer Force Main 

4" 1,600 ft
8" 350 ft
12" 1,700 ft 

6 Liftstations with 15 pumps
1.2 million gallons per day – 37 million gallons per month of sewage treated
162 tons of sludge per year hauled
$130,000 per year spent on electricity to run the sewer plant